Be TaskManager Documentation

Index
---
The New Team Dialog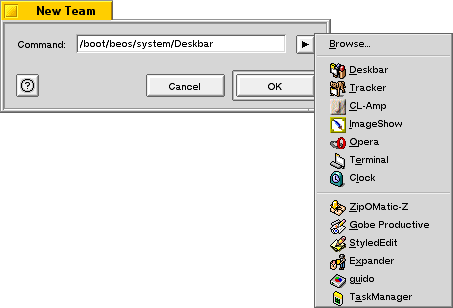 The "New Team" dialog is a mini command line which allows you to start applications even when the deskbar and/or the tracker are dead. You can either enter the path of an application or an data file. f you enter the path of a data file the preferred application for that data file is started. If you enter the path of an executable that application is started. You can also pass additional parameters to the application like in the command line.
If the directory of the application is listed in your $PATH environment variable you don't have to enter a full path. Simply enter the name of the application.
If you don't want to enter the path of the application or data file you can use the "Browse..." menu entry. This brings up a standard file dialog which allows you to select a file. The menu is accessable through that little arrow button. This menu also contains the seven most recently used application.
If the path entered in the edit box contains spaces you must enclose the path by quotes.
Examples
NetPositive
NetPositive http://www.3rd-evolution.de
NetPositive "http://www.3rd-evolution.de"
Terminal
/boot/apps/Clock

Top
---